IBM SkillsBuild
Skilling a diverse technology workforce with IBM
Our role
1. Branding
2. UX/UI
2. Content Strategy
In a nutshell
We reinvigorated the web design and content for IBM SkillsBuild, a digital learning platform for students, educators, and job seekers.
Context
IBM SkillsBuild is a digital learning platform for students, educators, and organizations to skill job seekers in cutting-edge technology professions. From artificial intelligence to cybersecurity, participants curate their own learning pathway and apply new skills through special access to IBM's world-class library of software. Completing courses lead them one step closer to earning verified credentials—and landing the tech job of their dreams.
But first: how did this project make its way to us? 
Our history with IBM's learning initiatives is a rich one. In fact, our founders all connected over a decade ago at IBM's Center for Advanced Learning. They discovered a shared passion for creating behaviour change through purposeful design, rich storytelling, and humour. 
Since then, our collaborations with IBM learning have taken us around the world. We've documented the stories of P-TECH students, who earn a high school diploma, an industry-recognized associate degree, and gain relevant work experience at their P-TECH school. When P-TECH evolved into the student-focused offerings of IBM SkillsBuild, we worked side by side with educators to design a career readiness toolkit for participants. 
So when the IBM SkillsBuild team wanted to expand their core audiences and evolve their web experience to go with it, they gave us a call.

Challenge
As the field of technology diversifies and demand for SkillsBuild grew to the millions, it was time to refine the core offerings to serve their most diverse participant group yet. Our collaborators approached us with the initial task of adding functionality to the IBM SkillsBuild website for two new audience types: college students and college educators. 
Preliminary research revealed two additional challenges. First, self-identification was confusing within the array of sometimes-overlapping SkillsBuild participant categories. Second, with significant age diversity among their core audiences, the brand expression differed inconsistently across age groups, risking a disjointed visual experience. 
At the conclusion of our discovery phase, the project had evolved into an information architecture overhaul for SkillsBuild.org along with a content and branding refresh, with a unified goal of improving overall user wayfinding.
Approach
To ground our work, we identified a few core challenges to address. First, we aimed to simplify the wayfinding experience across all participant types. We hypothesized that presenting the user with different high-level audience groups to choose from (learner, educator etc.) followed by offering a selection of user types within these levels (high schooler, college etc.) would enable them to make an informed decision.

We also aimed to align a distinct visual identity to each audience segment. Rather than attempting to account for every user type at once with the branding aesthetic, this would allow for a personalized experience tailored to each user type. Concurrently, our content strategist and copywriter worked with the IBM SkillsBuild team to develop a gallery of fresh copy for each new audience segment and landing page to pull them in.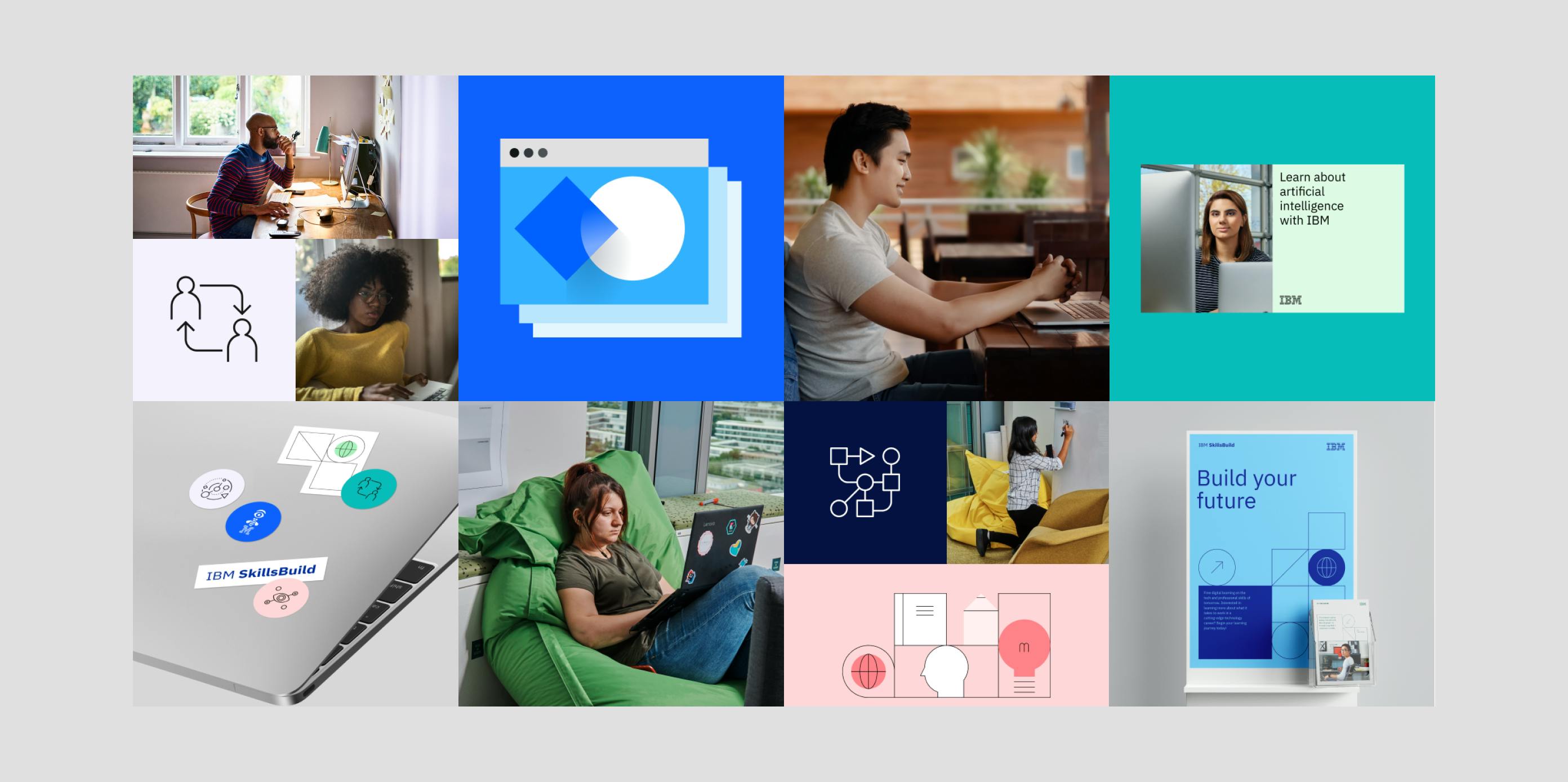 UX/UI Research
Through two rounds of moderated A/B tests, it was clear users were struggling with self-identifying what type of user they were. For instance a job seeker who was also a high school student could only select one of these two identity categories. Reworking the overall user experience of the navigation meant that new landing pages would be required to support the new flow – which would help scale the overall audience.
We substantiated our recommendations with data-driven insights from our testing sessions—like a consistent user preference for drip-fed self-identification options. For example, it was easier to start with "Learners" and then drilling down to specify either "College" or "High school" level, versus having all these options available at the same time.
Working within the beautiful IBM design system made it a breeze to develop. We were able to simplify the landing experience for users through content and clear UI design, while still adding college students and educators to the ecosystem. 
Then, we identified each user group and plotted them on a spectrum to guide the overall aesthetic.

We explored how the brand should shift and change depending on what audience was in question. For instance, bright and fun branding would be the preference to engage high school students but this might be too spunky for adult learners, who could resonate with a more professional aesthetic.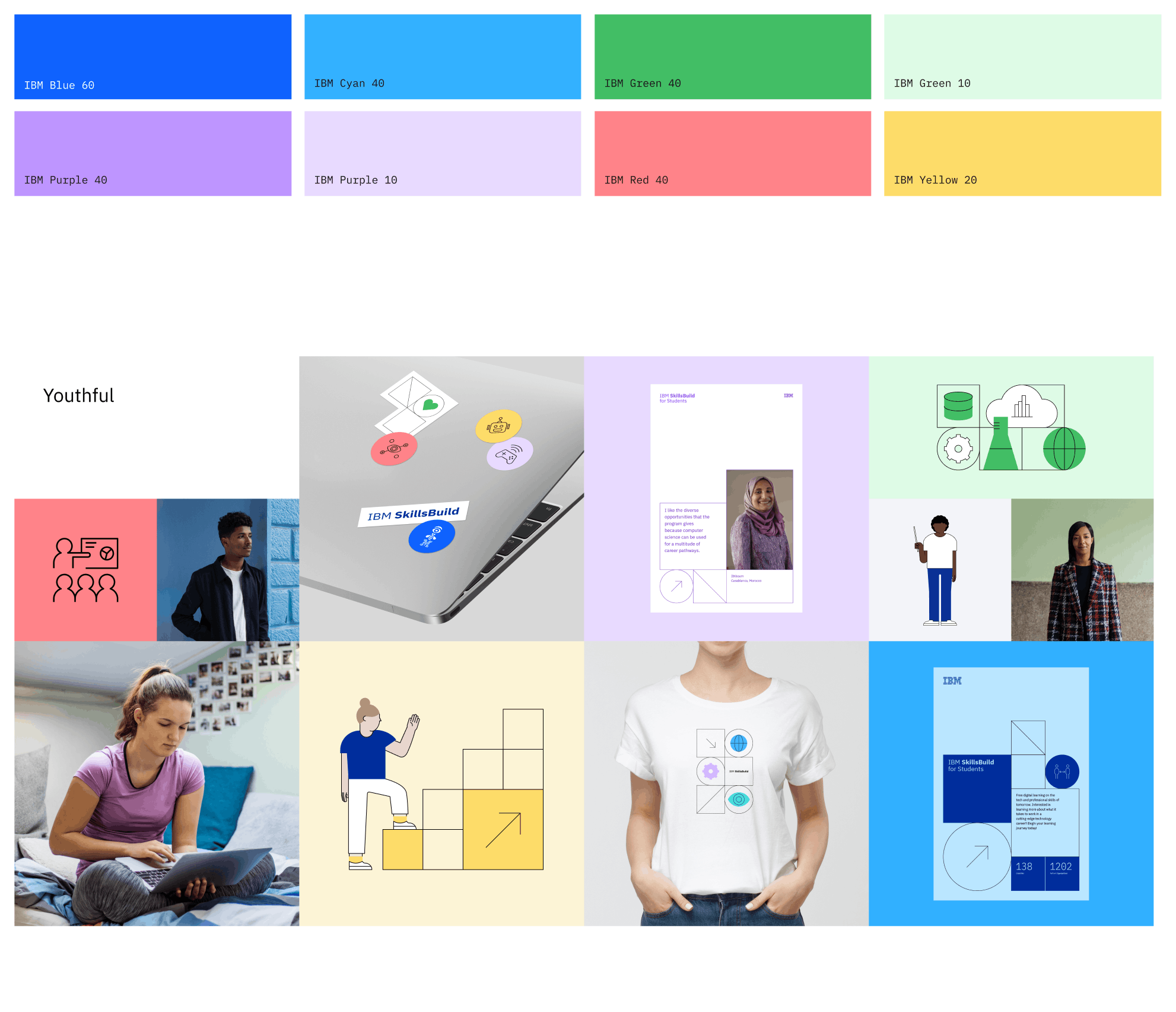 Our team conducted two rounds of A/B testing which helped to verify our recommendations. We benchmarked our proposed layout and new pages against the existing experience to validate the alternative versions.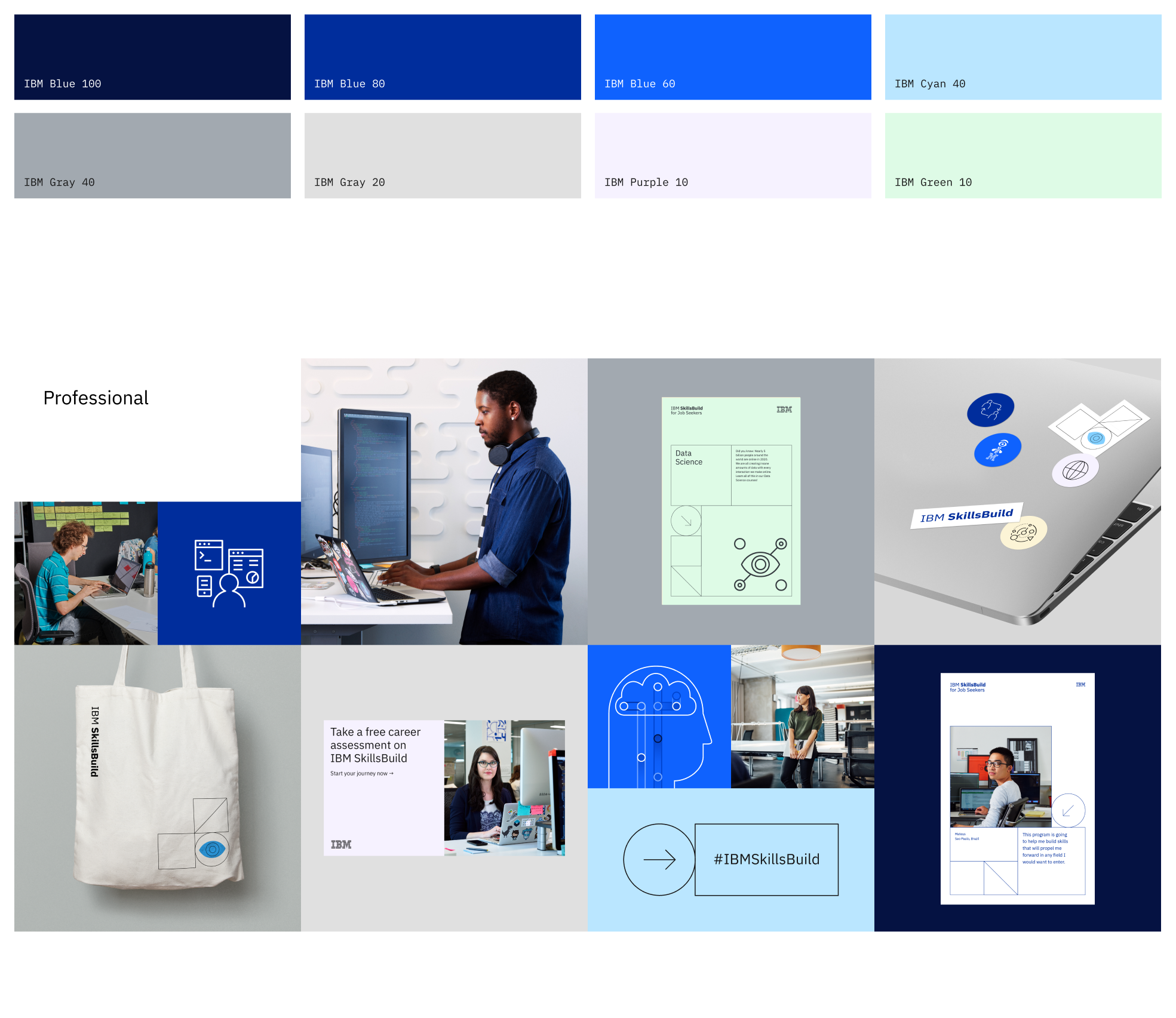 Outcome
Overall, our team regrouped and redesigned the navigation to improve overall wayfinding, and created new pages which helped to add clarity and completed multiple rounds of A/B testing to verify changes. By removing ambiguous menu items, like "job seeker" and reducing top-level options for self-identification, we improved overall navigation through the site. 
The IBM SkillsBuild initiative is the critical component of achieving one of IBM's core ESG commitments: skilling 30 million people by 2030. The evolution of the SkillsBuild digital experience will help propel this goal, and connect key communities to IBM offerings with potential to transform outcomes for themselves or their students, no matter what type of learner they are.