Festival of What Works
Site and brand refresh for the Festival of What Works
Our role
1. Web design
2. Photography
3. Web development
In a nutshell
Refreshing the website and designing reusable brand elements to support and market the Festival of What Works.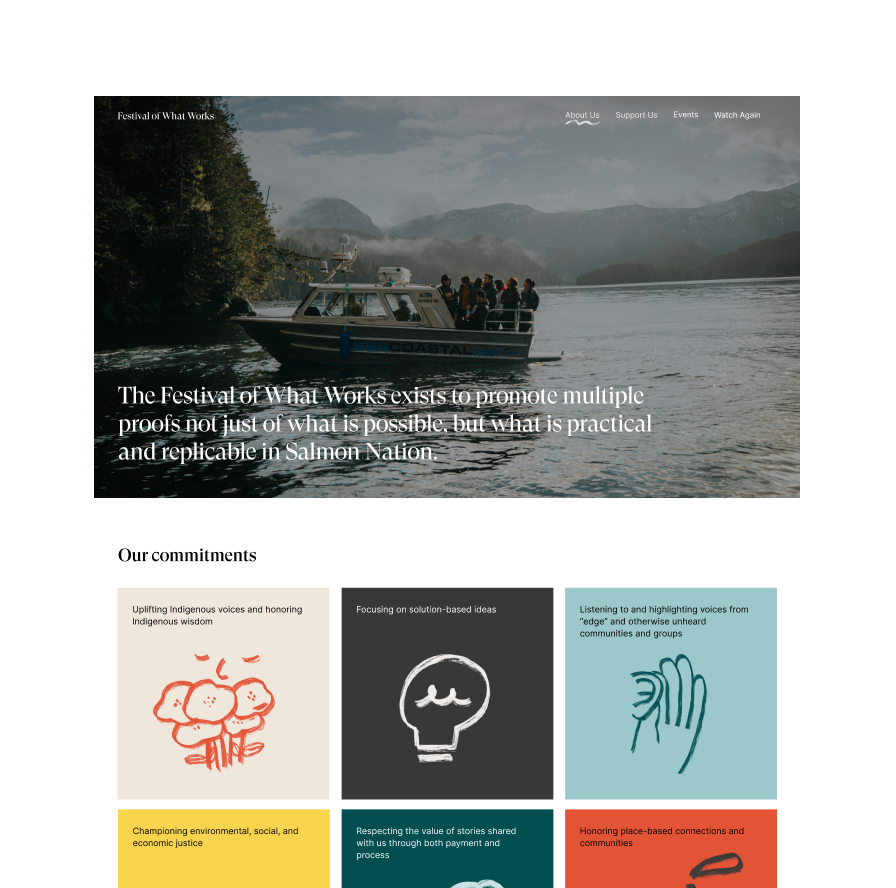 Challenge
The Festival of What Works is a five-day conference celebrating community-led approaches to living well in the Salmon Nation bioregion.
The previous Festival of What Works website was due for a refresh in time for the 2021 edition of the event. Unlike the old website, this refresh would need to align with the client's vision of embodying a "distinct, vivid personality, and professional design". 
It was important that the redesign be an independent site that would feature all of the organizer's festival events, rather than just a subpage on their parent website. Seeing that their festival had been a smashing success in its previous edition, Salmon Nation leadership saw an opportunity to create a distinct digital presence and house their content in its own independent corner of the internet.
All Purpose was called in to craft a new website and design reusable brand elements to support and market the 2021 Festival of What Works.
Approach
After initial rounds of competitor research, client consultations, and a few design iterations, the All Purpose team presented two different design options which aligned with the overall client vision. 
Featuring a bold colour palette with vivid block colors and earthy tones, the first direction boasted a bright, energetic, and bold aesthetic. It also included nature-inspired, warm, and playful illustrations that could be dotted throughout the site.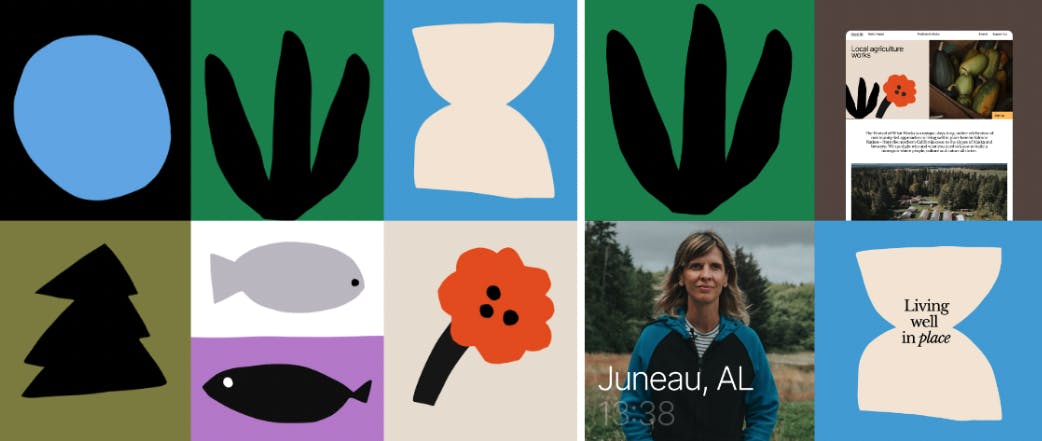 The second direction presented to the client focused on highlighting the people involved through an image-driven, immersive experience. Combining muted and natural tones with organic and understated illustrations aimed to directly reflect the cause.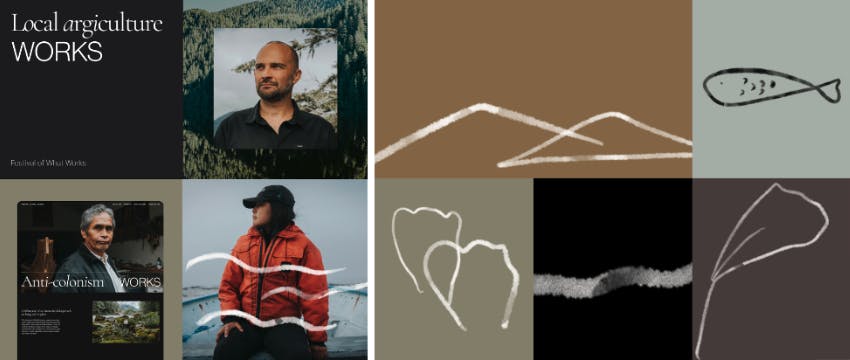 Outcome
Our client appreciated being able to select from two well-researched options for their new promotional site. After some internal discussions, they opted for the second option (more human-centric and immersive) as they saw value in a more organic and human-centred feel. 
We built trust with the client team, defined the vision, and collaborated to make a website that is engaging, and will serve as a platform for sharing future stories, inspiration and practical solutions to protecting the Salmon Nation bioregion. 
Product Design
The old Festival of What Works site primarily used one accent color for the home page, banners, and buttons. This design choice failed to guide users to key points of information or action. 
On top of this, the FoWW pages were a subset of the Salmon Nation marketing site. It was clear that the event was not getting the placement and level of attention it required: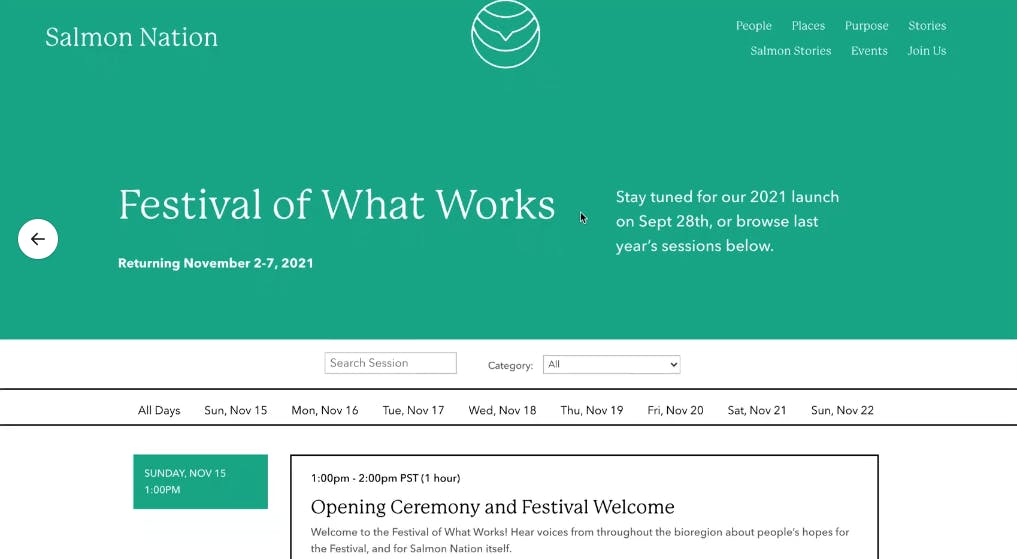 After
Making use of multiple organic tones, hand-drawn illustrations, and animation, this new design presented a more dynamic experience for users, gently guiding them through the content allowing them to savour every interaction.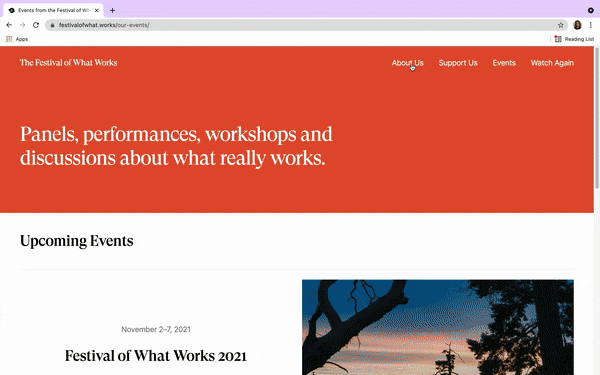 The Verdict
Our client was delighted with the output, noting its "user-friendly, modern...and elevated" design with "touches of whimsy and fun." Our collaborator at the Festival of What Works, Kel Moody, put it this way:
"We loved working with the All Purpose team. They were skilled, responsive, and flexible. Our team asked a lot of them, and they met all the challenges we threw at them. The design work was beyond what we expected, and we felt very supported and held through the process. They also were extremely helpful in navigating some technical difficulties we had on our end with connecting the site to our host properly. It was great to work with a team who was excited by our work and did everything they could to meet our needs as well as make our work speak to our audience in the best way possible."